Professor Joan Iverson Nassauer
Joan Iverson Nassauer is a Professor in the School for Environmental and Sustainability at the University of Michigan, Ann Arbor, MI, USA. She employs socio-environmental science to address the design and planning of metropolitan and agricultural landscapes – ranging from continental scale implications of agricultural practices to neighborhood scale implications of green stormwater infrastructure. Her recent work focuses on legacy cities. Using a design-in-science approach, she works with transdisciplinary teams to propose and assess new landscape patterns for their environmental and human effects. In particular, she investigates how human well-being, aesthetic experiences, and related behaviors interact with landscapes, affecting the cultural sustainability of environmental benefits over time.
The US-International Association for Landscape Ecology (IALE) named Nassauer Distinguished Landscape Ecologist in 2010 and Distinguished Practitioner in 1998. In 2007, IALE named her Distinguished Scholar. A Fellow of the American Society of Landscape Architects and of the Council of Educators in Landscape Architecture, Nassauer is past Chair of US-IALE, and served as Vice-President of IALE (1991-1999). From 2011-2013, she served as founding director of social science innovation for the US National Socio-Environmental Synthesis Center (SESYNC). The author of more than 90 refereed papers and books, Nassauer currently serves as Co-Editor-in-Chief of Landscape and Urban Planning, the world's top-ranked refereed journal in urban studies and planning.
Professor Andrzej Richling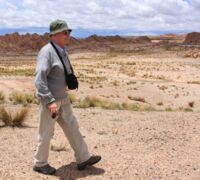 Professor Andrzej Richling is employed at the Faculty of Geography and Regional Studies at the Warsaw University. His research interests are related to physical geography and landscape ecology. Author of numerous publications. Author and editor of several dozen books among them the first Polish textbook in landscape ecology, co-authored with J. Solon, Ekologia Krajobrazu which has been reissued several times. Professor Richling was a long time member of the International Geographical Union "Landscape Synthesis" working group and regularly participated in the symposiums on problems related to landscape ecological research organized in Slovakia by M. Ružička, including the meeting in the town of Pieŝt'any in 1982, when International Association for Landscape Ecology was established. He actively participated in the activities of IALE, taking part in many congresses and conferences. He chaired the IALE Landscape System Analysis in Environmental Management working group. He is a co-founder, long-term chairman, and since 2008 honorary chairman of the Polish Association for Landscape Ecology. In 2007, he was awarded the IALE Distinguished Scholarship Award.
Professor Richling is honorary member of the Polish and Russian Geographical Societies, honorary member of the Slovak organization of landscape ecologists – IALE-SK, ordinary member of Warsaw Scientific Society, president of Advisors Board of National Fund of Nature Protection as well as member of editorial boards of several scientific journals.